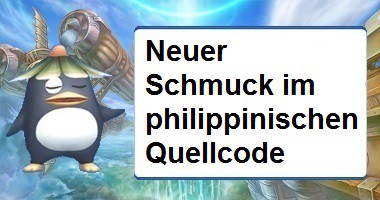 Wir haben heute in den koreanischen Quellcode geschaut und einen Hinweis auf ein neues Schmuckset entdeckt. Dieses Schmuckset ist im Code mit einem White Day Event betitelt.

Erfahre in diesem Beitrag, was es potenziell für neue Items für uns gibt und was diese für Effekte geben.
Wichtiger Hinweis!
Das gleich gezeigte Schmuckset sowie der namentliche Verweis auf ein anstehendes Event stammen aus dem philippinischen Quellcode. Das Schmuckset bzw. das Event ist noch in keiner Flyff Version erschienen, eine bestätigte Namensbezeichnung gibt es selbst im PH Code nicht und das zum Namen passende "White Day Event" wurde auch noch für keine Flyff Version angekündigt. Es ist also noch überhaupt nicht klar, ob das Event bzw. der Schmuck in DE-Flyff erscheinen wird
Add a header to begin generating the table of contents
Das 2020 Whiteday Ring Set besteht aus einem Red-Jewelled Candy Ring und einem Green-Jewelled Candy Ring.
Hinweis:
Nach dem Anlegen sind die Schmuckteile gebunden.
Icon

Name

Grundeffekt

Effekt des Sets

Red-Jewelled Candy Ring

-

2/2
EXP Rate +10%, ATK-Speed +10%, Cast +10%,
Kritische Trefferrate +10%, Kritischer Schaden +10%

Green-Jewelled Candy Ring

-

Upgrade
Stufe
Upgrade
Effekt

+1

-

+2

-

+3

-

+4

Fernkampfabwehr +1%

+5

Fernkampfabwehr +1%

+6

Fernkampfabwehr +2%, ATK +5%

+7

Fernkampfabwehr +2%, ATK +6%

+8

Fernkampfabwehr +3%, ATK +7%

+9

Fernkampfabwehr +3%, ATK +8%

+10

Fernkampfabwehr +3%, ATK +9%

+11

Fernkampfabwehr +4%, ATK +10%

+12

Fernkampfabwehr +4%, ATK +11%

+13

Fernkampfabwehr +5%, ATK +12%

+14

Fernkampfabwehr +5%, ATK +13%

+15

Fernkampfabwehr +6%, ATK +14%

+16

Fernkampfabwehr +6%, ATK +15%

+17

Fernkampfabwehr +7%, ATK +16%

+18

Fernkampfabwehr +7%, ATK +17%

+19

Fernkampfabwehr +7%, ATK +18%

+20

Fernkampfabwehr +8%, ATK +20%
Green-Jewelled Candy Ring
Upgrade
Stufe
Upgrade
Effekt

+1

-

+2

-

+3

-

+4

Nahkampfabwehr +1%

+5

Nahkampfabwehr +1%

+6

Nahkampfabwehr +2%, HP +5%

+7

Nahkampfabwehr +2%, HP +6%

+8

Nahkampfabwehr +3%, HP +7%

+9

Nahkampfabwehr +3%, HP +8%

+10

Nahkampfabwehr +3%, HP +9%

+11

Nahkampfabwehr +4%, HP +10%

+12

Nahkampfabwehr +4%, HP +11%

+13

Nahkampfabwehr +5%, HP +12%

+14

Nahkampfabwehr +5%, HP +13%

+15

Nahkampfabwehr +6%, HP +14%

+16

Nahkampfabwehr +6%, HP +15%

+17

Nahkampfabwehr +7%, HP +16%

+18

Nahkampfabwehr +7%, HP +17%

+19

Nahkampfabwehr +7%, HP +18%

+20

Nahkampfabwehr +8%, HP +20%
Aufrufe: 306