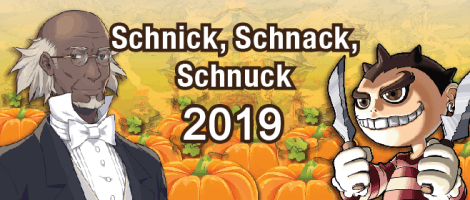 Das nächste Event in Flyff startet. Das "Schnick Schnack Schnuck 2019".
In diesem Eventbeitrag zeigen wir dir, was es alles für Quests gibt, was es bei diesen Quests zu beachten gibt und wie und wo diese Quest zu machen sind.
Außerdem zeigen wir dir genau, was es in den verschiedenen Boxen gibt und wie die Gegenstände im Spiel aussehen.
Schnick Schnack Schnuck 2019 vom 14. April bis zum 03. Juni.
Hinweis:
Die Event NPCs bleiben nach Eventende standardmäßig bis zur nächsten Wartung stehen stehen!
Add a header to begin generating the table of contents
Quest: Der Schnick Schnack Schnuck Coupon
Ort: Flaris, vor dem Briefkasten / der Bank
NPC: [Bürgermeister von Flaris]
Level: 45+ 
Aufgabe: Sammle Pumpkins von Monstern (Level 45+) und bringe dann 10 von ihnen zum [Bürgermeister von Flaris]. Er wird dir dafür einen Schnick Schnack Schnuk Coupon geben. Danach kannst du beim Störenfried Demian am Schnick Schnack Schnuck Spiel teilnehmen.
| Icon | Name | Beschreibung | Anzahl | Bind? |
| --- | --- | --- | --- | --- |
| | Pumpkin | Questitem: Wird von Monstern 45+ gedroppt. | 10 | Nein |
| | Schnick Schnack Schnuck Coupon | Tauschgegenstand: Für eine Rinde beim NPC Demian. | 1 | Nein |
Schnick Schnack Schnuck Spiel
Ort: Flaris, rechts vom [Bürgermeister von Flaris] (Blickrichtung vom Bürgermeister)
NPC: Störenfried Demian
Level: 45+ 
Aufgabe: Tausche einen Schnick Schnack Schnuck Coupon für eine Runde gegen Störenfried Demian ei
| Icon | Name | Beschreibung | Anzahl | Bind? |
| --- | --- | --- | --- | --- |
| | Schnick Schnack Schnuck Coupon | Tauschgegenstand: Bekommt man vom Bürgermeister in Flaris gegen 10 Pumpkins. | 1 | Nein |
Gewinnen, dann kannst du die nächste Runde Spielen
Schnick Schnack Schnuck Gewinn Runden
Extra Infos zu den Gewinnen:
Möglicher Inhalt der Gift Box for Medicine (alle gefunden, Dauer 1h):

Medicine for Thinking, Cast+10%
Medicine of Evasion, Blockrate +5%
Medicine for Attack, ATK Speed +10%
Medicine for Sharpness, Crit Rate +10%
Medicine for Hit, Treffersicherheit +10%
Medicine of Defense, DEF +100
Medicine for Strong Defense, DEF +200
Medicine for INT, INT +10
Medicine of Strong INT, INT +20
Medicine for STR, STR +10
Medicine of Strong, STR STR +20
Medicine for STA, STA +10
Medicine of Strong, STA STA +20
Medicine for DEX, DEX +10
Medicine of Strong DEX, DEX +20

Blessed Cloak of Light Effekt:

+20 Stats 
+15% Speed
+15% kritischer Schaden (CD)
+15% Cast  
+5% ATK
Aufrufe: 333