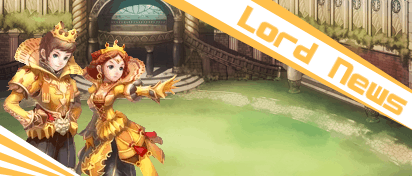 Like4farmer ist Lord geworden und hat für die kommenden 2 Wochen die Möglichkeit EXP/ Drop Events und wenn gewollt eigene Events zu veranstalten.
In diesem Beitrag werden die Lord Aktivitäten von Like4farmer veröffentlicht.
Wichtiger Hinweis!
Like4farmer ist kein Mitglied von Madrigal Inside.
Jeder Lord hat lediglich bei uns die Möglichkeit seine eigene Lordprogramm Seite zu verwalten.
Add a header to begin generating the table of contents
Vielen Dank an alle, die mich gewählt haben und mir ihr Vertrauen geschenkt haben. Hier ist nun eine Auflistung der EXP-Events & Spenden-Events die ich veranstalte.
Abschlussevent:
Zum Abschluss meiner Lordzeit werden einige tolle Sachen verlost! Jede Lord-EXP-Event Spende wird mit einem Eintrag im Lostopf belohnt.
Wer mehr als ein EXP-Event spendet, landet dann natürlich auch mehrfach im Lostopf
Gewinnliste :
1. Platz: 150 Perin
2. Platz: 1000 CASH
3. Platz: Christmas Rapid Star Wooden Sword + 7
4. Platz: Valentine Rose Cloak + Valentine Heart Glasses
5. Platz: Pet Food Bag (6 Stunden)
Gewinner:
1. Platz: Bruv
2. Platz: Bratwurst
3. Platz: Vieroo
4. Platz: Mephistoy
5. Platz: Fleischwurst)
Übersicht meiner Lord EXP Events
| | | |
| --- | --- | --- |
| Datum | 1. Woche | Eventart und Zeitraum |
| 24.01 | Montag | Eigenes 50% EXP Event (ohne Spenden) 14-21 Uhr |
| 25.01 | Dienstag | Eigenes 50% EXP Event (ohne Spenden) 14-21 Uhr |
| 26.01 | Mittwoch | Eigenes 50% EXP Event (ohne Spenden) 14-21 Uhr |
| 27.01 | Donnerstag | Eigenes 50% EXP Event (ohne Spenden) 14-21 Uhr |
| 28.01 | Freitag | Eigenes 50% EXP Event (ohne Spenden) 14-0 Uhr |
| 29.01 | Samstag | Eigenes 50% EXP Event (ohne Spenden) 12-0 Uhr |
| 30.01 | Sonntag | Eigenes 50% EXP Event (ohne Spenden) 12-22 Uhr |
| | | |
| --- | --- | --- |
| Datum | 2. Woche | Eventart und Zeitraum |
| 31.01 | Montag | Eigenes 50% EXP Event (ohne Spenden) 14-21 Uhr |
| 01.02 | Dienstag | Eigenes 50% EXP Event (ohne Spenden) 14-21 Uhr |
| 02.02 | Mittwoch | Eigenes 50% EXP Event (ohne Spenden) 14-21 Uhr |
| 03.02 | Donnerstag | Eigenes 50% EXP Event (ohne Spenden) 14-21 Uhr |
| 04.02 | Freitag | Eigenes 50% EXP Event (ohne Spenden) 14-0 Uhr |
| 05.02 | Samstag | Eigenes 50% EXP Event (ohne Spenden) 12-0 Uhr |
| 06.02 | Sonntag | Eigenes 50% EXP Event (ohne Spenden) 12-22 Uhr |
Vieroo : 26 mrd
Bruv : 25 mrd
Mephistoy : 5 mrd
Fleischwurst : 5 mrd
Bratwurst : 5 mrd
Kazuju : 2 mrd
Tigi55 : 2mrd
Nocturne : 1 mrd
Lagiacrüs : 1 mrd
Kriemhild : 1 mrd
Laetitia : 1 mrd
Miriel : 1mrd
Aufrufe: 703