Add a header to begin generating the table of contents
Das Crystal Labyrinth findet man im Knochenpfad und es kann alle 3 Stunden von euch betreten werden.
Um die Instanz betreten zu können, muss man Level 121-H erreicht haben und in einer Party sein.  Alle Monster sind aggro.
Als mögliche Drops gibt es beim Boss Devos Dryad Setteile, diese sind ab Level 125-H tragbar und seelengebunden.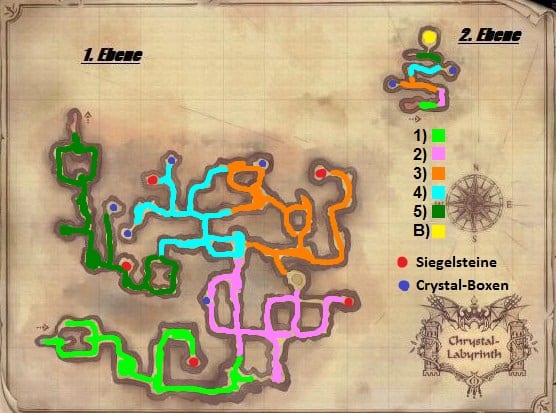 Gryphon d'Ishtar
Lv 125
1 of 7

Alchimiste d'Ishtar
Lv 126
2 of 7

Foudre de guerre d'Ishtar
Lv 127
3 of 7

Nécromancien d'Ishtar
Lv 128
4 of 7

Liche d'Ishtar
Lv 129
5 of 7

Artefact
6 of 7

Mahtolle, Seigneur des Souffrances
Lv 135
7 of 7
Um zu Devos zu gelangen, müsst ihr zunächst die 5 Siegelsteine zerstören, welche sich auf der ersten Ebene der Instanz befinden.
Aufgepasst: Die Siegelsteine spawnen Monster! Anschließend braucht ihr nurnoch die zweite Ebene zu durchqueren.
(Cliquez sur le monstre ou sur un bouton rouge sur la carte pour afficher des informations supplémentaires et la liste des drops du monstre)
Die möglichen Set Teil Drops des Bosses
Aussehen (M)

Aussehen (F)

Icon (M)

Icon (M)

Name

Lv.

Def

Set Effekt

Dryad Billposter Helmet

125

800~802

1/4:
-
2/4:
-
3/4:
-
4/4:
STR +20, INT +20, DEF +20%, HP +20%


Dryad Billposter Suit

125

1225~1229

Dryad Billposter Gauntlet

125

800~803

Dryad Billposter Boots

125

800~803
Aussehen (M)

Aussehen (F)

Icon (M)

Icon (M)

Name

Lv.

Def

Set Effekt

Dryad Ringmaster Helmet

125

667~669

1/4:
-
2/4:
-
3/4:
-
4/4:
HP +20%, Def +25%, Cast +20%, INT +20


Dryad Ringmaster Suit

125

1021~1024

Dryad Ringmaster Gauntlet

Level

667~669

Dryad Ringmaster Boots

125

523~525
Aussehen (M)

Aussehen (F)

Icon (M)

Icon (M)

Name

Lv.

Def

Set Effekt

Dryad Blade Helmet

125

913~916

1/4:
-
2/4:
-
3/4:
-
4/4:
Treffsicherheit+20%, Ausweichen+20, Trefferrate+20%


Dryad Blade Suit

125

1394~1399

Dryad Blade Gauntlet

125

913~917

Dryad Blade Boots

125

721~724
Aussehen (M)

Aussehen (F)

Icon (M)

Icon (M)

Name

Lv.

Def

Set Effekt

Dryad Knight Helmet

125

1141~1146

1/4:
-
2/4:
-
3/4:
-
4/4:
Def+20%, Nah -und Fernkampfabw.20%, Hp+20%


Dryad Knight Suit

125

1743~1749

Dryad Knight Gauntlet

Level

1142~1146

Dryad Knight Boots

125

902~905
Aussehen (M)

Aussehen (F)

Icon (M)

Icon (M)

Name

Lv.

Def

Set Effekt

Dryad Elementor Helmet

125

634~635

1/4:
-
2/4:
-
3/4:
-
4/4:
Magieschaden+20, Mp+20%, Cast+20%, INT+20


Dryad Elementor Suit

125

965~968

Dryad Elementor Gauntlet

125

634~635

Dryad Elementor Boots

125

500~502
Aussehen (M)

Aussehen (F)

Icon (M)

Icon (M)

Name

Lv.

Def

Set Effekt

Dryad Psykeeper Helmet

125

634~635

1/4:
-
2/4:
-
3/4:
-
4/4:
MP-Verbrauch-20%, Mp+20%, Cast+20%, INT+20


Dryad Psykeeper Suit

125

965~968

Dryad Psykeeper Gauntlet

125

634~635

Dryad Psykeeper Boots

125

500~502
Aussehen (M)

Aussehen (F)

Icon (M)

Icon (M)

Name

Lv.

Def

Set Effekt

Dryad Ranger Helmet

125

796~771

1/4:
-
2/4:
-
3/4:
-
4/4:
Angriffsreichweite+20%, Ausweichen+20%, Krit. Trefferrate+20%, DEX+20


Dryad Ranger Suit

125

1172~1177

Dryad Ranger Gauntlet

125

769~772

Dryad Ranger Boots

125

608~611
Aussehen (M)

Aussehen (F)

Icon (M)

Icon (M)

Name

Lv.

Def

Set Effekt

Dryad Jester Helmet

125

834~836

1/4:
-
2/4:
-
3/4:
-
4/4:
Krit. Trefferrate+20%, Treffsicherheit+20%. Ausweichen+20%, CD+20%


Dryad Jester Suit

125

1272~1277

Dryad Jester Gauntlet

125

834~836

Dryad Jester Boots

125

659~661
Die möglichen Schilder Drops des Bosses
Icon

Name

Def
MIN~MAX

Ab Level

Effekte

Klasse

Soul Forcegem

302~304

Level 130

INT +10, HP-Rate +10%,
Nahkampfblockrate +10%

Force Master

Soul Book

981~959

Level 130

INT +10, Casttime +10%,
ATK-Rate +10%

Mentalist

Soul Shield

453~453

Level 130

HP-Rate +10%,
Nahkampfblockrate +10%,
Fernkampfblockrate +10%

Templar

Soul Sword

367~368

Level 130

Krit. Rate +15%,
Krit. DMG +25%,
ATK-Speed +15%

Templar
Vues : 593