Add a header to begin generating the table of contents
Die Herneos Instanz (oben) liegt im Süden von Darkon 3 und man muss in einer Party und mindestens Level 90 sein, um diese zu betreten. Der Instanz Cooldown beträgt 90 Minuten. Alle Monster sind aggro.
Zunächst müsst ihr die Siren (Vorboss) töten, damit der Endboss Kraken gespawnt wird. Mit etwas Glück lässt der Endgegner Hernes–Waffen und Level 90er Setteile fallen.
Die seelengebundenen Waffen kann man ab Level 95 tragen.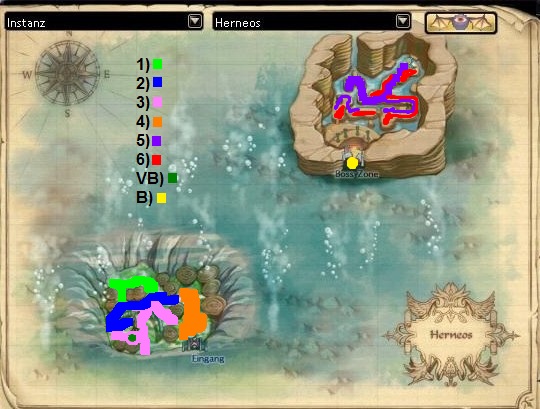 Requin de garde
Lv 90
1 of 8

Garde amphibien
Lv 91
2 of 8

Nymphe prétentieuse
Lv 92
3 of 8

Bétuine
Lv 93
4 of 8

Garde amphibien rageux
Lv 94
5 of 8

Nymphe courtisanne
Lv 95
6 of 8

Sexyrène
Lv 96
7 of 8

Kraken
Lv 101
8 of 8
(Cliquez sur le monstre ou sur un bouton rouge sur la carte pour afficher des informations supplémentaires et la liste des drops du monstre)
Die möglichen Waffen Drops des Bosses
Icon

Name

Atk MIN~MAX

Ab Level

Effekte

Klasse

Hernes Axe

398~569

Level 95

ATK-Speed +12%, Hitrate +10%,
Krit. Rate +29%, Krit. DMG +47%,
Schaden gegen Wasser +3%

Mercenary

Two-Handed Axe of Hernes

531~750

Level 95

HP Rate +15%, Hitrate +10%,
Def +18%, Nahkampfblock +13%,
Schaden gegen Wasser +3%

Knight

Sword of Hernes

456~507

Level 95

ATK-Speed +22%, Hitrate +10%,
Krit. Rate +24%, Krit. DMG +47%,
Schaden gegen Wasser +3%

Mercenary

Slayer of Hernes

608~677

Level 95

ATK-Speed +29%, Hitrate +10%,
Krit. Rate +29%, Krit. DMG +87%,
Schaden gegen Wasser +3%

Knight

Knuckle of Hernes

484~600

Level 95

Krit. Rate +12%, Hitrate +10%,
ATK-Speed +8%, Krit. DMG +67%,
Schaden gegen Wasser +3%

Assist

Stick of Hernes

531~551

Level 95

INT +17, Hitrate +10%,
Casttime +17%, ATK-Rate +18%,
Schaden gegen Wasser +3%

Assist

Staff of Hernes

493~590

Level 95

INT +22, Hitrate +10%,
ATK-Rate +23%, Casttime +17%,
Schaden gegen Wasser +3%

Magican

Wand of Hernes

531~551

Level 95

INT +17, Hitrate +10%,
ATK-Rate +16%, Casttime +17%,
Schaden gegen Wasser +3%

Magican

Bow of Hernes

484~535

Level 95

Krit. Rate +26%, Hitrate +10%,
ATK-Rate +16%, Krit. DMG +67%,
Schaden gegen Wasser +3%

Acrobat

Yoyo of Hernes

435~474

Level 95

ATK-Speed +26%, Hitrate +10%,
ATK-Rate +13%, Krit. DMG +77%,
Schaden gegen Wasser +3%

Acrobat
Vues : 972